We came across our first Piper at Peronnes, Belgium. The owners of Hibou kindly invited us aboard for drinks and a tour. I fell in love immediately, Niall not so much. "But it is a barge", said he. A few months later we were back in Australia and discussed the advantages of a Piper versus the 13m cruiser we owned – very few stairs, all the mod cons and easy to live on for a long time. We wanted a boat no longer than 15metres. The 49M was ideal. The decision was made, but would it be second hand or would it be new. The fact that a Piper holds its value sold us on the idea of a new 49M where we could specify it to our exact wants, needs and liking. By this time we were heavily locked up in Australia. A call to Simon assured us he had a slot to build and deliver to Europe before Brexit happened and that making decisions and choices from the other side of the world was a relatively easy thing.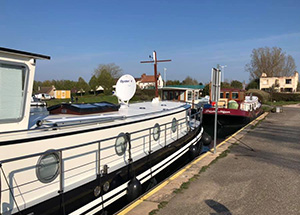 July 2020 saw us sign the contract and the build started in August. Emails flew back and forward, samples arrived by Covid slow mail and phone calls in the dead of night. It was indeed an easy process. Joe's endless patience as we changed our minds about things time and time again and added features we had forgotten.
Piper worked very hard indeed to meet the deadline. As promised she came out of production in mid-December, was loaded onto a truck for transport to H2O in St Usage. All we knew at the other side of the world was that the customs and border people on both sides of the channel were having Brexit dry runs and there were huge trucking queues. A couple of sleepless nights there until Simon sent us a video of her on the truck in St Usage on 17th December 2020.
There she was, all tucked up at H2O, and there we were locked up in Australia. We applied for an exemption to leave and were turned down. We asked Simon to write a letter to say he needed us there in France for Karinyas commissioning. He went one better and sent us a "nasty" letter threatening, legal action and/or resumption of the boat we had all but paid for. Brilliant, it worked. We were given permission to leave in early April.
We arrived in St Usage France on April 2nd without a Covid hitch. Simon and Andrea kindly let us use the house until the team could arrive to commission Karinya. While waiting we only managed to see her from the outside once. When she was finally launched on 14th April we went on board. WOW. She has everything and more. We are so pleased with the result and in our eyes a beauty. Living on her is so easy. Thank you, Simon, Andrea and the Piper team – awesome job. Hope to meet more of you soon.
Niall & Lynette
Karinya