PIPER IN PORTUGAL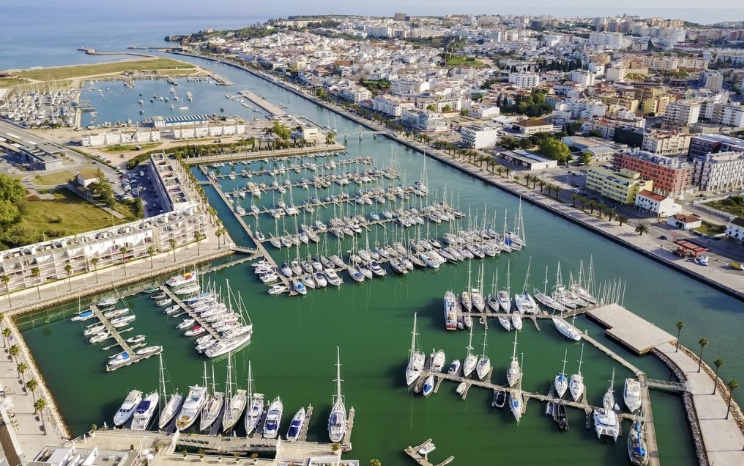 Lagos Marina Pontoon J,
front left
Antares' mooring
THE ONLY BARGE IN THE MARINA, and HOW WE GOT THERE
Like a lot of adventurous sorts, I like to think of myself as a bit of a Boys Own type, my nature demanding a bit of swashbuckling action occasionally. After spending most of the first year in Sawley Marina, getting used to full-time living onboard my brand new Dutch Barge, Antares, launched in November 2013 (and only moving short distances) my itchy feet, inside my boating plimsolls, urged me on.
The first real swash of my buckle arose on a short detour on the South Yorkshire Navigation stretch of the journey, the duckweed was appalling. Then onwards via the river Trent to Newark, then on to the Humber and on to Hull Marina where I stayed for a couple of months. As if removing duckweed from her various parts wasn't sufficient excitement, a real nightmare unfolded later, just around the corner from the Humber, at Goole, into the Aire & Calder, (no probs so far) then into the diabolical Leeds and Liverpool 'Canal'. I bracket 'canal' here, as the experience of removing duckweed now seemed a delightful and alluring pastime in comparison to dodging the litany of destructive debris now encountered in the L & L. The 'canal's' watery conveyance lanes, littered with submerged supermarket trollies, old loo seats, mattresses, sleeping bags, random body parts (this might not actually have been the case, but it felt like it should have been), added in the ill-maintained bridge structures to test my resolve. Every day, I was up to my armpit in filthy water trying to clear the prop of debris. My poor Antares was not at home, trying to float freely in the Leeds and Liverpool, dodging indeterminate underwater hazards, and overhead precariousness. Her first real escapade and she had to be craned out of the water at Botany Bay (appropriately named place to deal with criminal damages) and returned to Piper for extensive repairs. Not the envisaged adventure. Naturally, Piper made her good as new. Back in the water she went, hoisted in by Blue Point at Liverpool, from whence I travelled via the River Mersey, Manchester Ship Canal (that was a big one) and the River Weaver to Northwich for a few months, then by the same route back to Liverpool.
After a year-ish in Liverpool, I took her out on the Mersey into the Irish Sea, where I flipped a 'Should I go North or South' coin. North it was to Glasson Basin, onward to Whitehaven.
All sailors are familiar with marine weather forecasting parlance: sea state smooth, slight, rough etc. My next voyage of discovery from Whitehaven to Bangor in Northern Ireland illustrated a cautionary tale: Why one should view a confidently delivered marine weather report with exceptional scepticism. Antares wasn't cut out for overly rough seas, so I chose a day presented as wind force 2 to 3, sea state smooth or slight. The sea hadn't read the weather report. It was so rough, at one point, I was positive the next oncoming wave would be the last thing we'd ever see. Retention of the printed weather forecasts for the day serves to remind me never to blindly accept a forecaster's optimistic outlook, and how easy it is to be hoodwinked into accepting, as gospel, the reassuring tones of a marine weather forecaster. Somehow, and even as an experienced sailor with proper RYA ratings, I do mean 'somehow', we made it to Bangor. My 2 crew members threatened to jump ship and fly home !!. The cold sweats and alarms of that day faded (but never to be forgotten), as we set off for the Scottish mainland, and eventually Largs Marina in Ayrshire. There Antares and I stayed for almost another year.
Largs itself has many redeeming qualities, such as Italian ice cream shops and Viking battle re-enactments. However, living on a boat in a marina where there are no other 'stay a lots', can be isolating, despite the enticingly good ice cream. I decided to leave Largs Marina, and on the recommendation of an old friend, Antares ventured further northwest. She was bedded down in the small, reputably safe marina in Tarbert Harbour, Loch Fyne (Mull of Kintyre, where the mist does actually roll in off the sea). The Town surrounds the harbour, many people live long periods on their boats; it was perfect.
There comes a time when a sailor really would like a first mate. My personal life took a bit of a nosedive in 2012, but ever the optimist, in early 2017, I opted for a radically (in my opinion) modern approach. I put myself on an online dating website. Never taking the easy way, I found a lady, or should I say she found me, looking for the same things in life, but living in Wales, a mere 500 miles from Tarbert; not your 'popping round for coffee' distance. There's no need to bore the reader with logistics, etc, only to tell you that we're still happily together 3+ years later. Having a helping hand onboard, led to the next great adventure: The Crinan and then the magnificent Caledonian Canal.
The summer of 2018 brought unheard of fair, mild, sunny and warm weather to the UK, and Scotland was no exception. We looked at the long-range forecasts, and without hesitating for fear of missing this window of opportunity, we set off from our safe haven in Tarbert Harbour in late June for the Crinan Canal, en route to the Caledonian. The 14 Crinan locks took 2 days. Just outside Crinan, the bow and stern thrusters stopped working. As nearly everyone says, who comments on the manoeuvrability of the barge when using the thrusters, Nelson didn't have them on his ship, so we just got on with it. Out we ventured from Crinan Basin into the coastal waters, giving the infamous Corryvrechan whirlpool a wide berth, and glimpsing in the distance the Isle of Jura, where Orwell wrote Animal Farm.
After an overnight stay in Oban Marina on the small island off the mainland, Kerrera in view of the remarkable amphitheatre on the mainland, we set off with only a mild Atlantic swell to Corpach and the opening to the famous Caledonian Canal. Fate was with us, or right place, right time, because just when we needed one, a marine electrician moored up behind us for the night in Corpach. Paid off with homemade chocolate chip cookies and flapjacks, the bow and stern thruster control box received the due care and attention it required, and we were up and running again.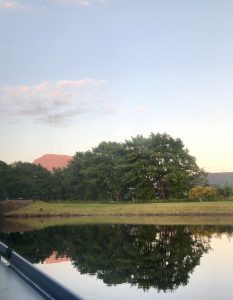 How did it feel to moor up in Corpach at the mouth of one of Thomas Telford's greatest engineering feats, basking in the glow of the setting sun, shining red-orange on Ben Nevis in the distance? Special, it felt awe-inspiringly, overwhelmingly, special. To think about traversing this canal ranks as a bucket list dream, and it was about to be ticked off the list.
Almost first stop Neptune's Staircase, north of Fort William, a gongoozler's paradise, watching at close hand the huge variety of craft transiting it's 8 locks, the longest staircase flight in Scotland. Antares held an interest for some, Dutch Barges weren't much known here. People chatted from the lock side to us, as we rose up the 62 feet in about an hour and a half.
Ben Nevis kept us in sight for much of the time on long stretches, as we negotiated canals and lochs. Mooring up in Loch Lochy (yes, it is a real name of a Loch) at Gairlochy for a few days, I took my electric bike for a jaunt to visit the modest abode of Thomas Telford, close by inland. I guess we stayed longer than most, as one chap tried to sell me his boat. One's enough, thanks.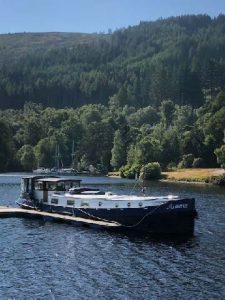 Moored up in Loch Lochy at Gairlochy. (What a mouthful).
The voyage and lochs were filled with interesting sites and people: tall ships at Laggan Locks, unexpectedly choppy waters in Loch Ness, swing bridges of various types, 2 German motorbikers took our ropes through the Fort Augustus Staircase, as we watched a shore-side play put on by a local group of actors about the inception of the canal. There's no point in trying to describe the breath-taking scenery along the way.
In Inverness, we sailed out under the Kessock Bridge into the Moray Firth. Should we go south, back down the east coast of the UK to new beginnings and new moorings, or turn round, do the whole Caledonian and Crinan Canals again, ending up back in Tarbert? We chose Tarbert and re-did our challenge in reverse, all 100 locks in total.
During our journey back through Loch Ness, we tried to pull in for lunch in a bit of a bay area, where the charts read 12 feet deep, but the bottom of the Loch didn't agree and came in at 1 foot; an unmarked shifting sandbank. We ran aground. Nothing serious, no damage, but enough to be stuck solid. Fortune smiles on the stupid. Aberdeen Coast Guard sent the only RN Life Boat crew in the loch system (based in Loch Ness) to rescue us. They refused our usual form of payment for services rendered (cookies and flapjacks). They are fondly remembered for their great good humour, reassuring competence and practised skills.
We negotiated the rest of the system without a notable event. By the time we arrived back in Crinan Basin, we were told the exceptional weather over the past 6 weeks we'd been 'doing' the canals had taken its toll. The Canal was marked down for closure the following day due to lack of water! The next day we hot-footed it out of the Crinan Canal, all 13 remaining locks, and made way for Tarbert.
We loved Tarbert, still do, but the uncomfortable distances between land-based home and friends and family and Tarbert demanded a resolution. New moorings down south seemed to be the answer; beautiful marinas, excellent facilities everywhere. The one thing they all lacked was a goodly amount of winter sunshine, which had also become a priority. Balancing travel, packing, unpacking, visiting, boating, flying, car, motorhome, ferry, house considerations, had all become too much like hard work. We were still looking for the best answer for us.
When we were on holiday in late 2019, early 2020 in Lagos, The Algarve, Portugal, the pandemic hit. We were forced to spend months in the Algarve (poor us), waiting for the ferries to start running again. I wish we could say we were somehow grossly inconvenienced or dreadfully unhappy in this beautiful lockdown isolation area of the Algarve in the glorious sunshine, but we realised Lagos had such a lot to offer. It had (has) a safe, modern marina, right smack dab in the middle of a modern, up-to-date place grown from an ancient, still cobbled-streeted, historic town, where the Phoenicians founded a harbour around 900 BC (bet the mooring fees weren't as bad then): Shops, restaurants, medical facilities, government offices, all on the doorstep within walking distance. This was where we wanted to spend our winters.
Having decided on Portugal, the question of where exactly to live needed answering: long term let, house/flat purchase? Final stage Brexit was (is, as I write) on the cards. Financially substantial and other life-changing decisions had to be made fairly quickly. We needed to fit the boat, house in Wales and Lagos into the picture. It seemed packing issues had not been solved. Until it occurred to us that we could live on Antares in Lagos Marina. Why NOT?
There was no time or opportunity due to Covid and Brexit, to consider meandering down through the French canal system, around Spain and into Portugal. Brexit, and maritime legalities involved, after the last deal/no deal dates passed, were more than our little nautical brains could cope with. If we were doing 'this thing', it had to be now. The only option for transporting Antares to Lagos looked like overland.
Locating a transport company, capable of conveying a 32-tonne boat, was not easy to find. Piper solved the problem for us, by using CPL, a Kent-based UK dedicated boat transport company, which had the necessary equipment, experience and attitude. Dealing with this very professional company, removed the distinctly scary prospect of transporting precious Antares overland. What had felt like a monumental ordeal, in the beginning, shifted down to the level of an ordinary house removal job, though of course, it wasn't; they made it feel panic-free, quite run-of-the-mill. Competent professionals are a godsend.
Antares in Lagos Marina would mean we'd happily be able to commute between the UK and Portugal by air with only a backpack, all belongings split between Wales and Portugal. it was the answer we had been searching for and one that suited us and our love for being on Antares. No more long months of marina winter guardiannage. She would be our Algarve home.
First, we had to get her there. We sailed from Tarbert to Largs Marina. The wheelhouse taken down, maintenance sorted, securely packed up and strapped down, she was collected by CPL on 29th October 2020 on a special transport trailer, accompanied by a 'Convoi Exceptionnel' escort van. Both drove to Poole, loaded Antares on to MN Pelican, a freighter bound for Santander in Spain.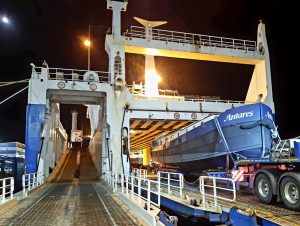 Antares being loaded onto MN Pelican.
On Saturday 7th November, CPL delivered her to Sopromar marine services adjacent to Lagos Marina. They have a 50-tonne hoist. Over the weekend, the wheelhouse and stern canopy were re-erected, and she was hoisted into the marina on the 9th. Like a bungalow amongst a housing estate, Antares nestles next to yachts on what is called the Honourable Pontoon, J, home to the only barge in the marina. We're back to being gongoozled again.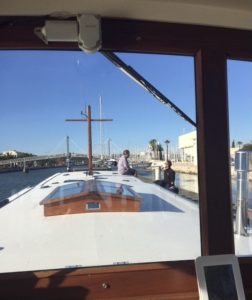 Lagos Marina pump-out facilities, 3rd December 2020; please note the shirt sleeves and sunshine.
This concludes the story from launch to the present. Maybe a record has been set for further North (Inverness/Moray Firth) to furthest South (Lagos, Portugal). We're proud to help spread the Piper name.
Once the pandemic is behind us, we'll venture further afield. For the time being, we're so very happy here in Lagos, with its beauty, exceptionally friendly people, our new friends, its myriad of facilities and the best of all: the moderate Algarve weather, (no) icing on the cake, to be sure. The decision to bring Antares here, to Portugal, is (so far) one of life's better choices.