So why a barge?
My lifetime total boating experience consisted of crossing the Channel and a few hours sailing on a lake in Poland as a boy.
As an adult, many Sundays over the last few years included a walk with Lucy our black Lab along the Thames in Abingdon. One of these walks gave us the first sighting of a turquoise Piper Barge and a quick search on the internet found a range of boats that seemed to a landlubber to go from large to massive.
3 years of visiting the Piper show in Henley, held in September for free food and drink sowed the seed, but would I like it after shelling out all that cash? would I get bored? could I pilot one? and is there enough space?
It turned out to be surprisingly easy to give it a go with a taster day with Bisham Abbey in Marlow on "Le Coq" – a great name with a learner at the helm!
This was followed by a couple of trips to the Canal De Midi for a training course then a short break with the Bargecraft team of Steve and Jo Bridges plus Rosie and Jim the Maltese Terriers.
So what did I learn at Marlow and on the Canal De Midi?
I loved the slower pace, yes I can pilot a barge – think ahead and do things slowly, rather than crash you just arrive inelegantly and there is plenty of room if you declutter.
Eventually, we couldn't put it off any longer and we decided that we should order one as kicking fenders for over 3 years while eating the Piper sandwiches was starting to take a liberty!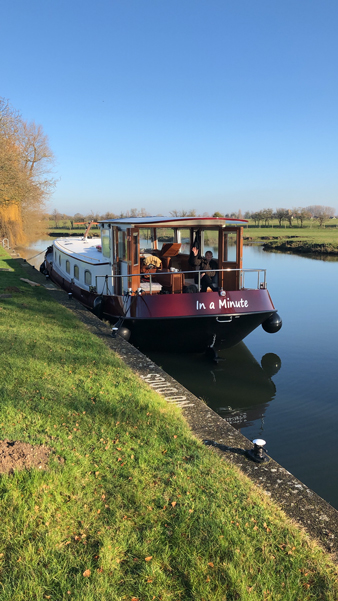 We are now the proud owner of "In a Minute" a 57N which was launched in Reading in October, stranded at Days lock until early February due to one of the wettest winters for years and then untouchable at Abingdon Marina due to Corona (virus not Lemonade)
Our time at Days lock was idyllic with it only being 20 minutes from home and we are now allowed to venture out for the day from Abingdon Marina.
So what does the future hold? – flooding is over, the plague is on the retreat and if we don't get a plague of locusts we should soon be able to venture further on the Thames for nights, weekends, and weeks away. When I can finally retire "In a Minute" will cross to France if they will still have us!
So should you do it – YES! – and remember that a nice house by a river costs a small fortune so think of all the money you can save with the added bonus of a new view whenever you want.
Richard, Mandy, and Lucy
"In a minute"