Boats in our fitout workshop
49M Motor Jabberwock is just at the finishing stages in the fitout workshop. Phillip and Catherine are looking forward to taking delivery in time to bring her along to the Piper Boats Henley weekend.
Have you registered for our Annual Piper Henley Weekend? We would love to meet you and show you through over 20 different Dutch Style Barges, for more information click here.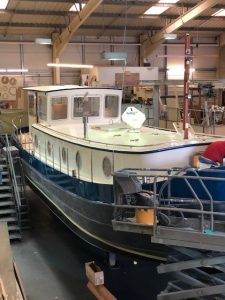 57N Nivernais Class Dutch style barge
Richard and Mandy from Oxfordshire commissioned us to build a bespoke Dutch Style barge, She is now in Fit Out after finishing in our steelwork department at the end of August and will be completed towards the end of October.
She is going to be another high specification 57N Nirvanais Dutch Barge, to be finished in stunning Caelum red Jotun paintwork.