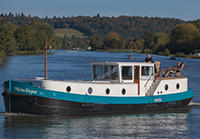 Monchique, Piper's own 49L Luxemoter class Dutch barge, came back from France earlier this year. It is now being kept at Harleyford marina where we are really enjoying spending time on the Thames. 2019 has been a very busy year both at the factory, homelife and with Andrea has celebrating a milestone birthday.
We celebrated Andrea's birthday at the Oakley court hotel on the banks of the Thames close to Windsor. It was a big surprise for Andrea as Simon organised a few close friends to be aboard one of Oakley Court's day boats. Our friends were wearing Andrea facemasks as we "bumped" into them at the lock.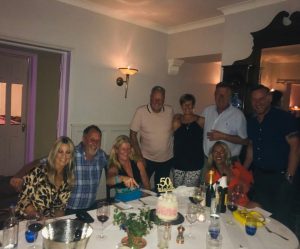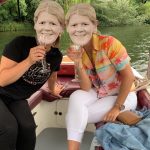 Everyone then cruised up to the hotel mooring on the manicured terraces for a champagne reception before dining in the Oakley court hotel. The hotel and staff were fantastic, and we can highly recommend this as a stopover point.
A special thanks Oakley Court Hotel, Mike Russel for the cake, Ivan for the Champagne
Andrea loved all the well wishes from the Piper Boats Owners and friends, Andrea looks forward to a late celebratory drink at Henley-On-Thames for the Piper Boats Regatta, if you haven't registered yet, please do so by clicking here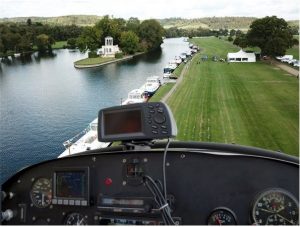 Simon has started his flying lessons at Duxford airfield and is progressing well. Now comes the task of convincing our warranty engineers to get in a plane with him to get over to France in double time!
Unfortunately, Fred, our senior engineer, has suffered some serious ill health. He spent August in hospital but is due home in early September. His road to recovery is hopefully not too far and we all wish him well and look forward to welcoming him back. Someone's going to have to volunteer to be Simon's co-pilot!
It is always dangerous to give Simon any spare time to think about boats. It is even more of a problem when this spare time is spent relaxing on the stern deck of Monchique watching a variety of river cruisers sailing by. Piper boats has now commissioned a very well-respected designer to design a rather stunning new river boat. Classical lines with a modern approach designed with the River Thames in mind. Watch this space!