If you can dream it, you can do it (or you can with the help of Piper Boats!)
About us…
We are Antony & Tracey Tennet, we have been boating on and off for many years on the sea…
We are heading to the time of life that we all spend our whole lives working towards, retirement and dreaming of adventure…
We had bought the house of our dreams and that had given us the confidence to test ourselves further, we felt we had many years left 'on the clock' and so we decided we needed another adventure…
Then Brexit came, should we carry on… course we should!
Why a Piper…
There were many ways to achieve our dream: buy a second-hand boat or find the right manufacturer and work with them, we chose the latter and after many months of careful research the no brainer choice was to work with Piper Boats! The reasons for this are:
Product – well designed, well finished, they look "just right"
Team – Friendly, helpful and knowledgeable, right the way through the workforce, passionate about what they build
Design – Flexible, accommodating, elegant
Support – Not just with the boat, but with the situation's life throws at you, more of that later!
Not only that, but there is also the 'Piper Family' the community of owners who are so helpful, supportive, friendly and great ambassadors for the Piper product.
Specification….
Then you get to the exciting bit, which boat design, what are you intending to do, how do you want to use your boat… as the famous advert says, the possibilities are endless!! This is where the internet, Pipers, the Piper Family and the Henley event really come into their own…
We read (for we, read Antony) countless owners articles and blogs to gain ideas and information. Particular call out to Verne and Roy, the articles of their life on their Piper barge Karanja were just what we were imagining for ourselves (if you haven't read Verne's blog, we highly recommend it!!)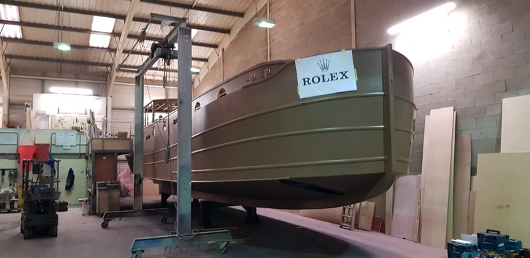 We thought long and hard about how we were going to use our boat, what she needed to do for us, and after going onto Marian and Paul Griffiths' boat El Pero Negro at Henley in 2018, we decided a 60M was the girl for us!
Then there are the insides, the outsides, what mechanics (I leave that bit to Ant, I am more interested in cushions!)
Axiom is a fabulous blend of our previous boats (Avanti, Odessa and Marchwind) along with the inspiration, shared learnings and advice from so many of the Piper Family, including the aforementioned Paul and Marian on El Pero Negro, Jan & Angus on Jangus, Claire & Jeremy on Happy Chance, Paul and Julie on Pickled Pepper, Peter & Karen on Joie de Vivre, Martin & Nicola on Anticus, James and Julie on Mimosa, David on Steel Away, Shaun and Tracy on Ascension, Roy and Verne of Karanja and so, so many more!! Obviously this list also includes the team at Piper boats, especially Joe, Tom and Simon… One piece of advice we would pass on… if you get a challenge from Pipers, listen and think again, they are not being difficult, they just know how to build boats, it's what they do!
Antony spent a day and a half with Joe, going through our specification choices and exploring the art of the possible, it was a great time investment…
Build Process…
Following the time with Joe, the only times we went up to Pipers was simply to satisfy our own curiosity… our most memorable trip was in December 2019 when Nick (despite a sore knee) was very keen to get us into the workshop… when we got there she had been given a new name… (Simon, inspired by the infamous white jacket from Henley!!) cheeky!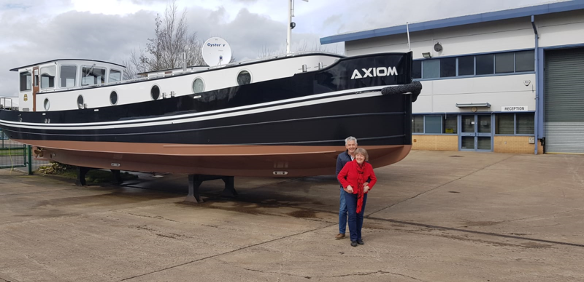 In March we went to stay for our weekend in the carpark… (little did we know that would be a taster of life to come!) Despite having seen her on a couple of occasions during the build we were blown away when we stepped aboard to realise that exactly what we had discussed, planned and dreamt of had actually become a reality… we were so happy!
Moving on day…. Not what you would think….
So May the 5th dawned, we loaded our van and headed towards… No, not the Thames… Piper's yard!! This is where Covid-19 messed up the schedule (as it has for so many of us). We moved on to our Axiom in Piper's yard and over the coming month became good friends with our neighbours Pamela and Robert Garant on Vitruvius (who were in the yard a lot longer than us!) We had 'socially distanced' drinks together on many occasions elegantly positioned on our respective aft decks!
Then came the day, Vitruvius first and then Axiom the following day… we were moving, heading off for our respective launch days at Thames and Kennet… floating at last… our adventure begins….. Thanks to Pipers!
If you are reading this and wondering if you should go ahead… don't think twice, if Brexit and Covid-19 have taught us anything… life is too short!! Do it! Piper's don't have to be pipe dreams!!