End of an era…………………
We have sold our beloved Blue Belle, and we will be handing her over to the lovely new Australian owners Kim and Jennifer Rule after finalising the sale at the end of June. We are excited for them, as we know that they have many wonderful years to look forward to, exploring the waterways of Europe on our beautiful Piper barge and being part of the friendly, knowledgeable Piper family. I know that you will welcome them and look out for them.
David will especially miss boating life, as this is the first time since his early 20s in Wellington that he hasn't had one type of boat or another. He skippered his boat over the channel in the early 80's and spent a few months on the Canal du Midi, and he had a boat on the Thames (Henley) close to where he lived. He returned to NZ in 1996. He was a founding member of the DBA, and in the early nineties, he had a Dutch tjalk, called Anna Josina in Holland, and various others from yachts to launches over the years, in NZ and Europe.
We will miss catching up with all of you and the camaraderie and sense of family between the Piper owners. The spontaneous celebration of meeting another Piper owner and sharing good times will stay with us forever.
We have such wonderful memories starting from our initial meeting with Simon and Andrea Piper in 2012 to create the 49M with the overhang, the "show boat" at the Crick Boat Show in 2014 and then meeting so many other Piper owners at Thames and Kennet marina at launch May 2014 too, all waiting for the flood warnings to lift, our boats to be readied and like us to start our maiden voyage – and what a start that was – 3 New Zealand boats left together- a first for the lock keeper who could not believe his eyes! Kororareka, Māori name for Russell, (in the Bay of Islands, where we lived), with Stu and Tina is now back in the UK, Manuka, name of a New Zealand native tree, Guy and Vicki from Auckland have their barge back in Auxonne and Blue Belle, my nickname from Cape Town days, is in Kerkdriel, South Holland, since 2018.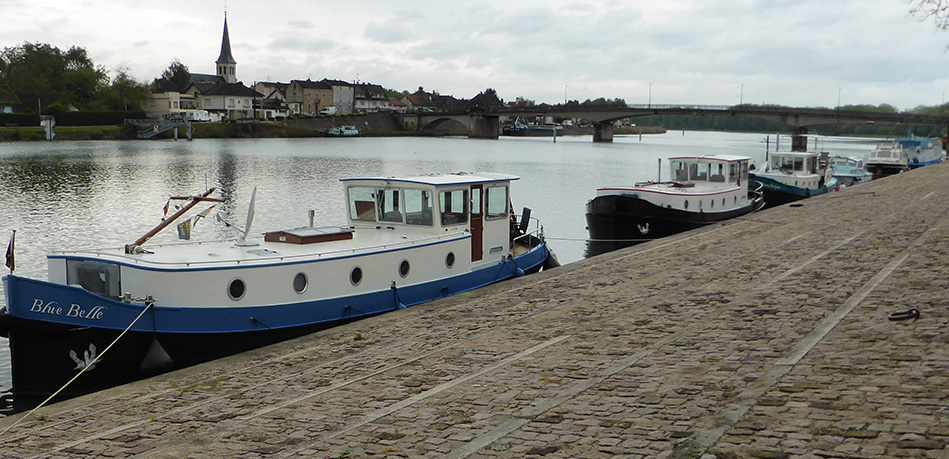 Blue Bell was also at the first Salon Fluvial in April 2015 that Pipers took part in along with Simon & Andreas 49L Monchique and the 49M demonstrator that was exhibited at the Paris boat show, Salon Nautique in December 2014 & now named Millie.
We have valued the reliability of our Piper, shooting down the Rhōne at 22km/hr (no revs) from Lyon 2015 and up the Neckar 2016 at almost zero kms/ hr (full revs) from the Rhine to the first lock cutting during horrendous flood conditions. We weaved our way down the dry Rhine September 2018, avoiding the grounded barges, exposed groins or going aground on the sandbanks or in the marinas that we were able to stop in. Reliable equipment always kept us safe. We have been very lucky to have had a long boating life, to explore the waterways from London to Paris, Amsterdam to Berlin and, of course, the canal du Midi – my dream come true!
Last June on the barge I noticed instability while standing and falling forward. I wasn't able to throw ropes or ride our e- bikes. I felt unsafe on the boat. The opportunity to sell fell into place and thanks to Pamala and Kiwi/Australian barge friends, this word of mouth sale was completed online, to the satisfaction of both parties.
On returning to New Zealand, on 1 December, I was diagnosed by a specialist with a rare but not fatal disorder, the cause still unknown with many people having symptoms but undiagnosed. I am very lucky.
Primary orthostatic tremor is a rare, progressive movement disorder that causes unsteadiness when standing still, due to a rapid tremor affecting the legs and trunk. The tremor is sometimes described as having 'shaky legs,' and it improves or disappears when walking, sitting, or lying down. This may cause people with Primary orthostatic tremor to attempt to sit again or walk immediately after standing, for fear of falling. Unfortunately it is progressive.
I'm helped by medication but I am no longer able to stand in queues, or stand eg, to cook food, do gardening etc unless I'm leaning against the counter top or wall or holding onto something.
Our changed life means we will relax while someone else does the steering! If we see any Pipers on our future road travels, we'll pop in to say hello!
Thank you Piper Family for being part of our lives for so many years. We will miss you.
David and Wendy Dalton