As we totter down the street, to the casual observer we might seem to be reasonably responsible adults, if a little frayed around the edges. That would be a bad misjudgement, however. As will become apparent, there exists a deep character flaw, at least where boats are concerned. We are in fact inveterate boaters and Eawynn, a 55L Piper replica barge, is the eleventh boat we have owned in the last 45 years, and our second Piper.
After thirty years or so of sailing a series of small and larger sea boats, we finally displayed a modicum of civilised behaviour and migrated to the inland waterways. Two narrowboats and several canals later, in 2015 we bought our first Piper, a 65M named Eadlin, and moved onto the Thames. After enjoying seven fantastic years of Thames cruising between London and Oxford, we were quite certain that the Dutch barge brought together all that we seek in a floating home and recreational cruiser, and that we wanted to carry on doing more of the same for as long as possible.
And then – in the space of 10 minutes, one memorable day in February 2022, we placed an order for a second Piper, this time a 55L. Although we have never regretted this decision, it would be fair to say that it came as quite a surprise to us at the time! So how did it happen?
Well, when we made the appointment to see Simon Piper and his team, we had a completely different agenda in mind. What we actually intended to do was to 'explore the pros and cons' of two options, namely to refurbish Eadlin, or to commission a new Piper. We had come to Biddulph prepared with a list of possible improvements to the 65M, plus some 'what if' thoughts about buying a second Piper.
In the event, in what can only really be described as an 'ambush', Simon and Nick rapidly persuaded us that it would be a far, far better thing altogether to allow them to build us a shiny new boat. They showed us round the current boats in build and talked us through the advances to be had in buying a new boat. They sealed the deal by offering to start the build more or less straight away, with the launch date just in time for the new boat to be on display at the Piper boat show event at Temple Island, Henley in September. Not for the first time where boats are concerned, we were utterly beguiled, succumbed rapidly to the impulse of the moment, declared it had to be a new build, and signed up accordingly.
The remaining issue was whether to choose an M class at 60ft. or a 55ft. L class (with the raised aft deck and cabin below). We knew, from conversations with our very helpful Piper owning friends at Harleyford Marina, that both models possess great features. This made it difficult to choose between them but in the end we decided that the 55L, with its elevated aft deck, dual steering positions and two ensuite double bedrooms would best suit our current lifestyle. Although we had loved every minute of cruising on Eadlin, and appreciated the additional living space that comes with a 65M, we realised that we no longer needed a third bedroom-cum-office. We are particularly attracted to the 55L design because it gives a very good view when steering from 'upstairs', and the aft deck is excellent for relaxing and entertaining friends.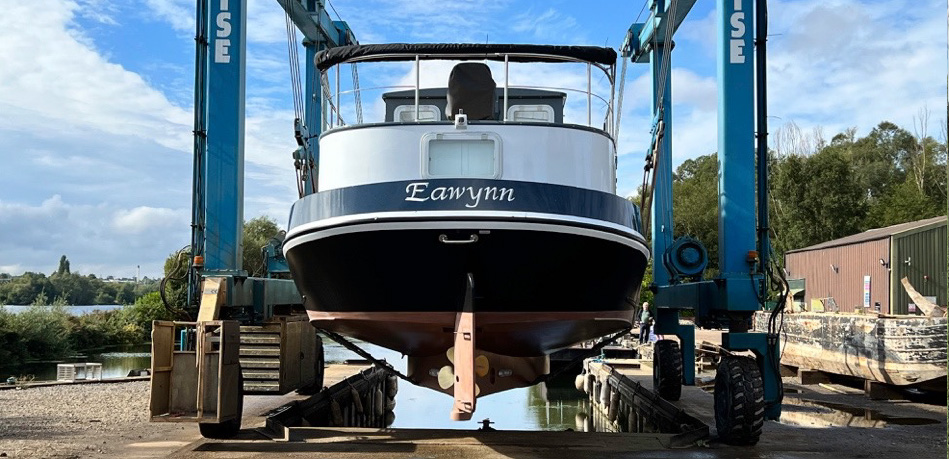 Over the summer of 2022, we enjoyed many a visit to Piper's works to discuss design details and see our new boat take shape. As we experienced with our first Piper, this was one of the best bits of the project. We had plenty of time to do this, as we had sold Eadlin by early July, rendering us 'boatless' for the first time in a very long while.
Eawynn was duly launched in September at Caversham and almost immediately voyaged to Henley for the Show. After a frantic day or so arranging furniture and stowing Sue's shoe and ballgown collection she was fit to be seen by the public. We fielded many questions about our choice of a 55L but the main interest seemed to focus on Piper's clever reorganisation of the forward cabin which resulted in an extra metre of length in the saloon. We are very pleased with the increased spaciousness.
With a launch so late in the season and getting ourselves sorted, other than travelling to our home marina, there remained limited opportunities for cruising in 2022. However, we eagerly anticipate revisiting our favourite moorings on the Thames as soon as we can in 2023. What was of particular note in our limited cruising experience so far was conning the vessel from the upper deck. This was a special joy for viewing the passing scenery, but you have to guard against unwarranted feelings of superiority as you pass paddleboarders so far below!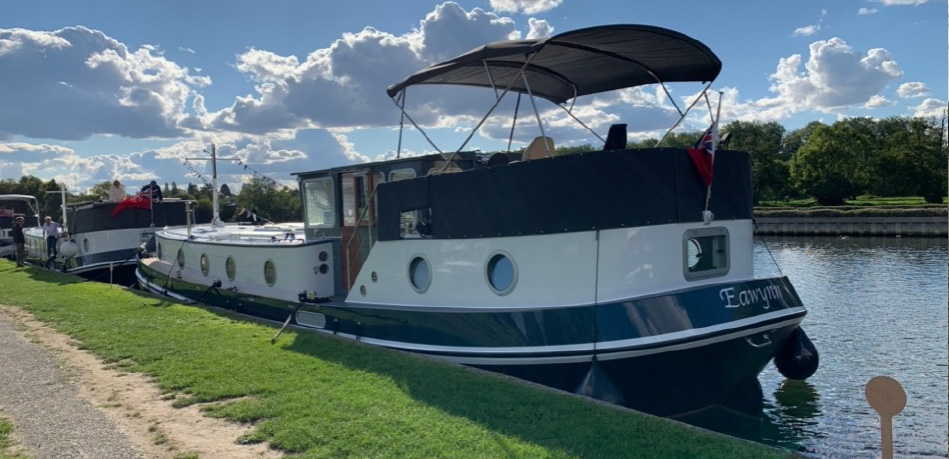 Over the winter the boat has proved to be snug, comfortable and warm. All in all we are very pleased with Eawynn and our thanks go to all at Piper Boats who were at all times kind and patient with us. Special thanks are due to Tom for the time he spent guiding our decisions during the design and build processes.
Happy voyages!
Pat and Sue Willan.