Nicola, Alfie (the Border Terrier) and I are sat on the rear deck of our Piper Barge, Anticus, taking a sip of wine and reflecting on our first season of cruising on the Thames.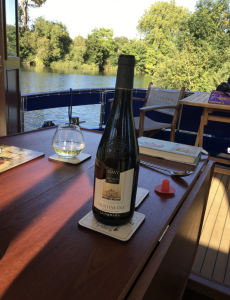 At the end of last year when I told my former work colleagues that I was retiring, buying a barge and planning to take her round European canals and rivers, it would be fair to say there was a mixture of comments. Some of which were not for sensitive ears! After the usual "thank God you're going" and "about time", the next most frequent comments revolved around relevant experience of boating and moving into a metal tube!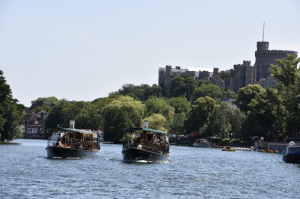 We had spent a total of three weeks on boats, in our lives, before sending our deposit to Nick at Piper's to book our build slot!  We had no experience of driving / piloting / captaining a 30 ton barge. We have never been camping or caravanning and preferred our holidays at the 5* luxury, en-suite end of the market.
On our blog, bargeanticus.com, you can read more about our decision making process and the build of our barge. But as we sit here in the late autumn sun, cheeky glass of chilled Italian in hand, we were reflecting more on our cruising experience, whether the boat has lived up to our expectations and Piper's after sales service. All things we had less clue about, prior to launch, than even our lack of relevant knowledge and experience!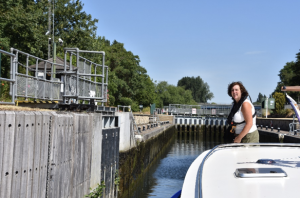 Owing to the fact that Nicola can't retire till April next year, our cruising has mainly been one or two night jaunts along the Lower Thames as far as Teddington Lock to the East and Windsor to the West. This part of the Thames is beautiful and tends to be a little quieter than further upstream in terms of hire and day boats. The weather has been spectacularly good and we have moored at some fabulous places such as Hampton Court Palace, and looking down the Thames to Windsor Castle.
The barge has more than lived up to everything we dreamed of in the five years it took from idea to launch. We were obviously a little concerned about how we would handle such a 'beast' on the river, especially given the largest cruiser  we ever hired was half the length and a tenth of the weight of Anticus. I was more worried about crashing into something, and Nicola was more concerned about rope throwing and negotiating the locks. Neither of us had any doubt about living on board as there was far more room than either of our first flats when we left home!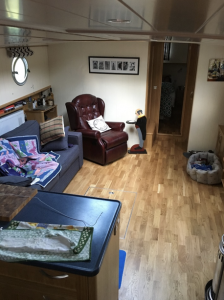 The finish on the boat, everywhere from the joinery in the living accommodation, the beautiful lines of hand crafted steelwork, the organisation of the engine room and systems and the creamy luxury of the paint meant that everyone who saw our boat this year were full of compliments.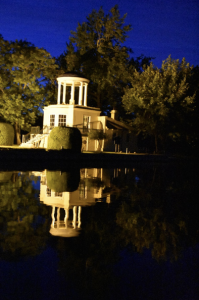 The boat seemed big (for us) and heavy. However, contrary to my expectations, is far easier to manoeuvre than the smaller, lighter weight cruisers we have experienced in the past. When we are mooring or in locks we take everything slowly. The boat stops and we tie up! It really has been nothing to worry about. Even in the high winds of our last couple of days, on the way back to our base at Shepperton Marina from the Piper Event at Henley, the boat behaved impeccably and was a pleasure to operate.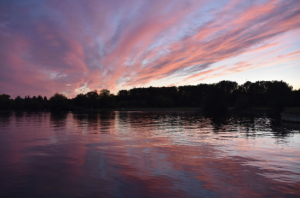 The Henley event is a chance for Piper's to invite prospective purchasers to look over current owners boats. In return we get odd bits of work done by the team of engineers and craftsmen. Our boat is 12 weeks old, was a pile of flat steel at the beginning of the year, and a hugely complex and beautifully crafted example of bespoke boat building. Only the foolish would not be expecting a few snags after delivery.
Our snagging list for the engineers was: one of the toilets not flushing.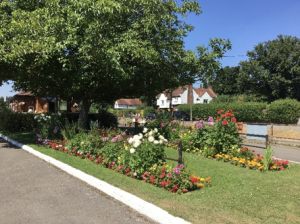 That was it. Seriously, that was it. We are full of awe that such a thing can be built to such high quality standards.
Vinny and Josh, two of the engineers turned up, but unfortunately the new loo was the wrong one. However, two  days after our return to Shepperton a van turned up with Shaun, who had set off at 5am from Biddulph and the toilet was replaced. Our experience of after sales service has been first class. Even extending to a check of our systems by the guys at Henley, just to make sure I hadn't missed anything!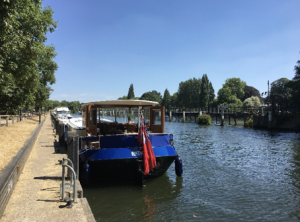 One of the most frequently asked questions by visitors to the Event was, "what would you change?". At the moment we can honestly say we wouldn't change a thing. Another favourite question was, "any advice?". The answer we gave was to listen to Simon and Andrea and take their advice. You wouldn't tell Mary Berry how to bake a cake, or Lewis Hamilton how to race a car. So listen to the builders when they build your boat!
We have cruised a couple of hundred miles up and down the Thames this year, with the engine running for about 80 hours. We have visited historic sites and picturesque towns. We have drunk wine and even draft beer. We have cooked and eaten out. We have been dry and wet – mostly dry, but especially wet when Martyn fell in off a dinghy at Henley!!!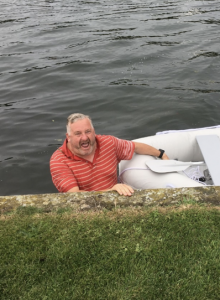 We have learned an enormous amount, including how to drive the boat 'properly' after a bit of debris chewed our stern thruster blades.
Have we loved it – you bet we have.
In fact, we have loved it so much that we are intending to stay out and about during the winter, subject to river conditions. However we are REALLY looking forward to new adventures in 2019 aboard OUR Piper Barge, Anticus. And not for the first time this year we are sitting here with great memories, pinching ourselves, and asking, "how have we managed this?"
Martyn & Nicola Fryer
DB 'Anticus'