Making the break…………….
For 24 years my wife and I lived in, restored and loved an old farm on steep, wooded hills in the south of the Massif Central.
Having reached our early 60s we realised that we'd got itchy feet. It's wasn't that we didn't like the place any more, or the local community in which we were pretty active. No, it's that we wanted to travel and have a complete change.
But what form would this new life take? We couldn't keep the farm and travel at the same time, because it and the animals needed constant looking after. So we could sell it. But then where would we live? Down the road, in a smaller house? Wouldn't feel like a real change. Back in England, where I come from? Despite the fact that our farm included two houses, lots of other buildings and all that land, what we could sell it for wouldn't buy us a garden shed back in dear old Blighty. Alright then, what about Denmark, my wife's birthplace. Yeah, why not, but I don't speak Danish and maybe 62's a bit late to start learning such an outlandish tongue! 
In 2016 we rented a canal boat in Burgundy with some friends and spent a week drifting through the countryside watching the herons, kingfishers and Australians that are the dominant species in those parts. Gradually, the idea germinated. We could combine a new house and travelling by buying a decent-sized canal boat, living on it, and going all over Europe.
That was the genesis of our new project… 
Ok, so where do you find a boat?
Having decided to buy a boat, we had to find one. We felt that if it was to be our only home, it would need to be at least 20m long and we wanted it to be capable of going around the coast as well as up canals and rivers. To cut a long story very short we looked at lots of old boats – the kind you can buy second hand are often Dutch barges more than 100 years old. However we also spent a week visiting boatbuilders in England (no-one in France seems to build this kind of boat today) to see whether we could afford what we wanted as a new build.
While we were in England, several people told us about a company called Piper, based near Stoke-on-Trent, who apparently produce excellent Dutch barges, but when we looked on their website, their 20m model was beyond our budget.
Back in France, we continued looking at second-hand boats, but without seeing anything that made us really enthusiastic. We saw an advert for a "Salon Fluvial" (Boat show for canal and river vessels) at St Jean de Losne, near Dijon, which is the hub of the French waterway network. We decided to go, just to keep up the enthusiasm for our project. Looking at the details for the show, I noticed that Piper boats had a stand.
When we got there, we discovered that they don't have any sales staff: they had invited several of their existing owners to moor up and open their boats to interested visitors. We went aboard all the Piper boats that were present and talked to the owners, English and French.
We realised that the boats that were a bit smaller than we had been thinking about (17.5 m or 57 feet) would be perfectly OK for two people, a cat and a dog, and that they cost (for a reason I've never got to the bottom of) MUCH less than the slightly longer ones.
In a word, we were hooked. We looked around the rest of the show, but after relatively little discussion, we decided to go back and tell Piper that we wanted to order a boat. We discussed some of the technical options and then they invited us to go and eat in a local restaurant that evening with all the owners who were present. We had a great time, met some great people and learned a lot about Piper boats and boating.
Getting it built
Having decided to have a boat built, it's quite difficult overseeing it and checking all the detail when you live over 1,000 miles away. We paid a flying visit (literally) to the Piper factory near Stoke-on-Trent in early May 2018 to sign the contract. I was quite surprised to find that they are so far from any water, but at least that way there's little danger of the boats rusting…
We spent the afternoon discussing the thousand and one items that we needed to choose, from the detailed layout of the boat to the colour of the shower trays. For me at any rate, it was quite difficult to choose things without being able to see them in situ, but we did our best.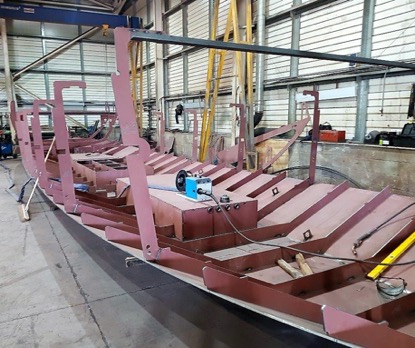 For the rest of the spring and summer of 2018, all the details were sorted out by e-mail and 'phone. Lizzie had what could have been the guest bedroom fitted out as a workshop/studio, and we negotiated a bigger-than-standard engine in anticipation of the river Rhône and, who knows, even the Danube. We must obviously be quite mad, having never sailed anything more than a narrowboat or a plastic hire boat on the very calm waters of the French canals.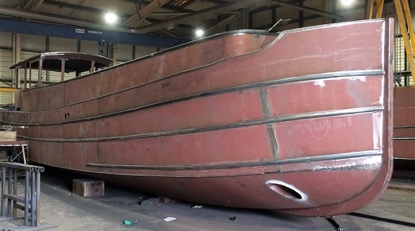 In early September we went to England again just as work was about to begin on the fitting out. We also did a one-day VHF radio course in order to get the certificates we needed before we could be allocated a call-sign. We turned up to a Portakabin in Newhaven to find a tutor and just us as students. He was a very good teacher and we learned quite a lot: the only problem is that we've forgotten it all again…
By mid-November the work on the boat was finished! It seems incredible to us that the whole job could be done in no more than five months, but Piper do produce about 15 boats a year, so they've got things off to a fine art. We couldn't finish paying for the boat (and thus move on to it) until we had sold our house, and although we had found some buyers by this time, the deal would not be complete until late January so we had to keep our impatience in check. In the meantime, we had to order some of the equipment for the boat ourselves, for example washing machine, dishwasher, TV and blinds. Again, not always easy when you're in a different country. For the blinds, we had some of Lizzie's paintings printed onto fabric and sent to the blind-maker in Stoke, so they were printed, made and fitted without us ever seeing them!
It was at about this time that we also finally chose the name for the boat – we'd been tossing different ideas around for months, but finally settled on "Svanen", the Danish word for "The Swan". The signwriter excelled himself by painting swans next to the name so that even non-Danish speakers (i.e. 99.99999% of the world's population) would understand!
Piper's ask all their customers to do what they call a "snagging session", so at the beginning of December we loaded a hired van with the sofa, the recliner, the coffee table and some of our other gear in lots of boxes. We drove via Dieppe and Newhaven, staying with long-suffering friends in East Sussex. Then it was round the M25 and up the M40 for an obligatory IKEA stop (this time in Coventry, which must be the only IKEA in the world that is right in the town centre and impossible to park near with a large van) to pick up a mattress and a few other essential items.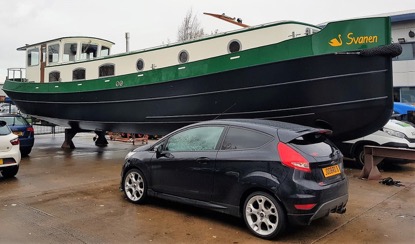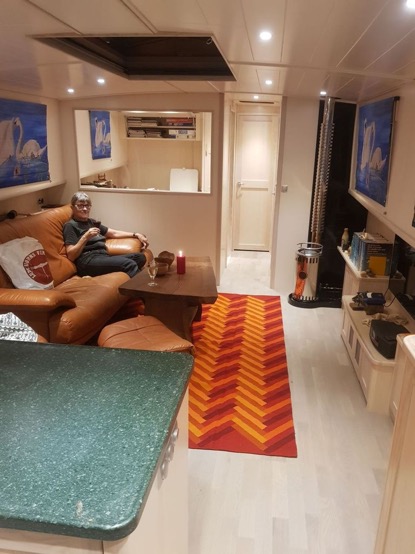 Now all we had to do was complete the sale of the house, pay the final instalment on the boat and see it go into the water.
In the water …. at last!
We finally completed the sale of our French farm on 31 January 2019, 24 years to the day after we'd arrived there. We headed north the next day with another hired van driven by Lizzie with Spot the border collie as co-pilot while I drove the car with Mimi, the future feline captain of Svanen, in the back.
We arrived at the Piper yard two days later on a bleak Sunday afternoon to find no fewer than three boats lined up in the car park, which was covered in compacted ice. The steps up to the boat were even more rickety than the previous time. We had only a couple of hours of daylight that afternoon and then the next morning to unload the van before I had to drive it back to Dieppe to the hire company depot. On the Tuesday I spent 8 hours (i.e. two trips) on board the Dieppe-Newhaven ferry, returning as a foot passenger.
The next morning I had my first taste of the British railway system for nearly a decade (Newhaven-Lewes, Lewes-Victoria, tube to Euston and Virgin non-stop to Stoke. I must say, after all the horrible things I'd read and heard about the network, my journey went without a hitch. I caught a bus outside Stoke station and it dropped me right outside Piper's yard just in time to see the crane begin to lift Svanen so that she could be placed on the lorry.
The lorry would travel to Caversham, near Reading, overnight, so we set off earlier and stayed in a hotel in Reading.
We'd been told to be at Thames & Kennet marina at 8 o'clock the next morning to see the boat being lifted off the lorry and dropped (no, no! – placed) into the water. We dutifully arrived but it was well after 9 when she arrived.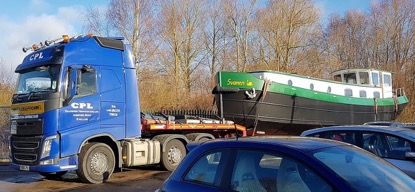 Whereas loading the boat ON to the lorry was a long, tricky business that lasted the best part of two hours, getting it off was incredibly quick, particularly with a mobile gantry crane and a young, highly skilled operator with a remote-control device.
The Piper team sent us away for a late breakfast while they checked the boat over and made sure that the engine worked! They 'phoned us at about midday and took us out on the river for half an hour – that was a great feeling and we even got to steer (speaking for myself, wavy wakes were the order of the day). Then they took us into the marina and moored Svanen where we were due to spend the night, before moving down the river the next morning.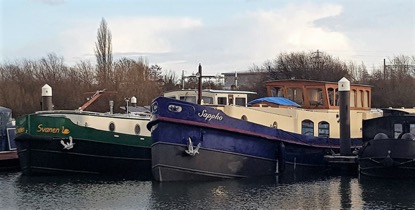 As mentioned, we were due to move down the river to Harleyford, near Marlow, the next day since Thames and Kennet marina theoretically had no room for us. Since we knew we were incapable of steering the boat through the various low, narrow bridges and the five locks that separate Caversham from Harleyford, we'd booked a trainer to come with us and literally show us the ropes. I set off that morning to pick him up as arranged, but when I got to our meeting place, he explained that the Thames was "Red-Boarded" (they put up red boards at all the locks telling people that the river is closed for navigation) due to the recent heavy rain and snowmelt off the Cotswolds and that it was therefore too dangerous (apart from being forbidden by the authorities and our insurance company) for us to undertake the trip.
So we made the best of a bad job, persuaded Thames and Kennet to let us stay until the river would let us leave, and set about getting the boat organised and just getting used to living aboard on the water, with all the different noises from our own and neighboring boats making us wonder what was going on.
Although the boat is fully fitted out and equipped, we still found it necessary to make two further trips to IK*A (no I don't have shares in them) to buy boxes, baskets, etc. to subdivide the 60 or so drawers and cupboards so that we could better store (and find) things.
A week passed by with all this organisation, walking Spot around the rather dog-unfriendly environs of the marina and paying several visits to the very Bob-and-Lizzie-friendly Boaters' Bar!
Finally, a week later than planned (but that's what life on a boat is all about), the river relented and we were able to set off on a gorgeous day for the trip down to Harleyford. Peter started by teaching us (or trying to in my case) to lasso a bollard with a rope and went through the checklist before starting the engine (no oil leaks, water leaks, loose belts or tight underpants…). It must be said that our almost total lack of experience and the distance we had to cover before nightfall meant that Peter did nearly all the steering, our role being limited to lassoing the said bollards and working the locks.
But it was just great to be in our own boat moving down the river on such a lovely day. We hardly saw any other moving vessels (apart from rowers around Henley), but there were plenty of swans, geese, grebes and red kites to compensate.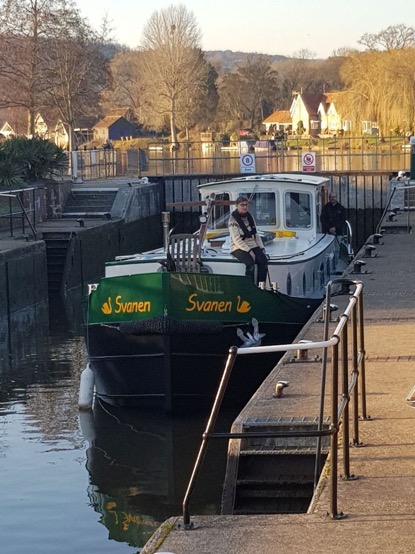 We finally arrived at about 17h 30 just as darkness was beginning to fall. We were mentally exhausted but we'd learned a lot and were sure that this was the life that we wanted, even if we're not quite ready to tackle the river on our own yet.
Now we've been moored at Harleyford for a week and are loving it. It's such a relaxed lifestyle, the weather's fantastic, there's a big expanse of parkland where Spot can run freely again at last and even Mimi the cat has begun exploring. Our next navigation lesson is planned for 28 February.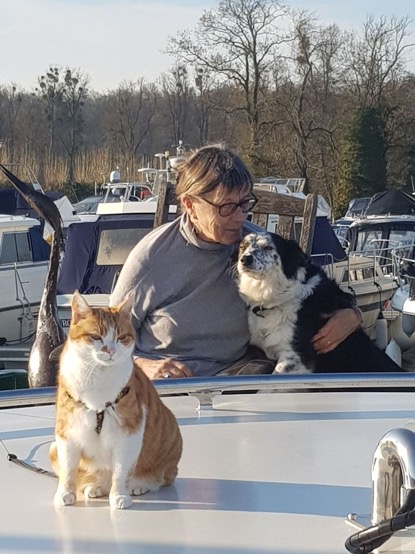 Bob & Lizzy Tobin
'Svanen'