JANGUS our Piper 55L was launched in September 2018 and was the culmination of an eight-year journey.
In 2010 we were fed up with going on the standard package summer holiday with a surly teenage son in tow so decided to do something completely different that would keep him engaged, so we booked a flotilla holiday sailing on the Ionian Sea in Greece. Little did we know at the time that this would lead to myself and Jan living on our Piper 55L virtually full time and the surly teenager becoming a professional Merchant Navy officer.
After numerous subsequent sailing holidays both in the Med and Caribbean and with retirement approaching we decided that we would like to own our own boat and to cruise somewhere warm, this ruled out the English Channel for a start. The plan has changed over the years as we came to the conclusion that a sailing yacht was not a practical option and ended up buying a 36 foot Dutch built steel motor cruiser which we moored at Thames and Kennet Marina near Reading. The plan became that after I retired in May 2019 we would take it across the channel and cruise the European waterways in the summer months but we had come to the conclusion that our boat was to small for extended cruising and we now had a problem.
Sitting on our cruiser in the marina one afternoon in the early summer of 2017 Jan noticed moored on the pontoon opposite us a very new and shiny Dutch barge. Curiosity got the better of us and we had to have a closer look. Up until then all the Dutch barges I had noticed on the Thames seemed to have been laid down before the Great War and to my mind looked fairly agricultural. However this one looked superb with good lines, plenty of deck space and a fantastic finish. Needless to say this was our first view of a Piper Barge and this one was La Bamba a 49L just recently launched. A quick search on Google and telephone call to Andrea at Piper Boats led to a visit to the Piper factory. After seeing boats in various stages of build we came to the conclusion that this was the answer to our problem and that owning one was an option worth pursuing. We were particularly interested in the 55L model but only one had been produced so far and was at St Jean de Losne in France. Being firm believers on not buying anything sight unseen especially a new boat we found ourselves some weeks later boarding the cross channel ferry for the drive to St Jean. Fortunately also whilst there we were able also to see Gillian B a 65L, Peter Bennet her owner was very welcoming and we spent a very enjoyable afternoon and evening with him and Simon Piper. Seeing Gillian B inspired us even further and we returned home determined to pursue ownership of a Piper.
When I told my Financial Advisor what we were planning he nearly fell off his chair and said that we were completely mad. My reply was that I hated gardening and the thought of spending the rest of my life in the same place looking at the same four walls would send me senile in short order which in my view was by far the greater risk. He and his wife recently visited us on JANGUS and we spent a very pleasant day cruising up to Henley Meadow after which he told me that he now completely got it, that buying JANGUS made 100 percent sense to him and was an inspiration.
After spending the summer of 2017 cruising on the Thames when work and the weather allowed we ended up in September mooring up at Henley Meadow behind the long line of Piper barges for the annual Piper Henley Event. Feeling very much the poor relation amongst so many impressive boats everyone was very welcoming. For anyone unfamiliar with Piper Boats this is one of the occasions when Simon Piper deploys his Secret Weapon in the form of a sales team made up entirely of unpaid volunteers known as Piper Owners.
After a very enjoyable weekend viewing various barges and a very pleasant evenings entertainment we were sitting on the back of our boat contemplating our plans when we came to the conclusion as you do when you get to a certain age that life was to short and that March 2019 was to far away. After a quick conflab with Nick we grabbed the October 2018 slot that was still available and the rest is history.
Well not quite, buying a new Piper Barge is not for the faint hearted. Every boat is different and bespoke really does mean bespoke. We had to put a lot of thought into what we wanted out of our boat and draw up our specification accordingly. Piper produces about one boat a month and the time from first cutting of steel to launch for us was four months. What can I say; it was one of the most exciting yet daunting things we have ever done together apart from raising our son. Watching our barge grow from a flat pack pile of steel to being launched at Gillingham was amazing.  The finished product exceeded our expectations and we feel like we have purchased a Pocket Super Yacht.
A few anecdotes, firstly one of the technicians who was laying our Flexiteek decking commented to me that he regularly went to Princess Yachts in Plymouth to install decking and as far as he was concerned the standard of build on our Piper far exceeded that of a Princess Yacht. Secondly my brother in law who is a builder and plies his trade doing renovations for well-heeled clientele is a difficult person to impress at the best of times. When he went to Piper to install our granite worktops he was in complete awe of the entire build and had nothing but praise for the standard of workmanship and engineering detail.
Saloon & Gallery
After a false start when Piper had hoped to get JANGUS completed in order to make her debut at Henley the launch date was set for the 25thof September. The day before I received a telephone call from Nick at Piper asking me if I was "sitting down" as he had some bad news. My immediate thought was OMG the boat has caught fire in the yard and is a complete right off or some such similar disaster. But no, apparently the lift at the Environment Agency yard at Reading was out of service indefinitely and would we mind if we were launched at Gillingham instead. Did I mind, not one jot! What a fantastic bit of luck to be able to take JANGUS on her shake down cruise down the Medway and up the Thames, both rivers steeped in maritime history to our berth at Harleyford. For a fan of Alexander Kent and Dudley Pope this was a dream come true. Needless to say we said yes and had a fantastic cruise in perfect conditions. We cleared the lock sill on the receding tide with only inches to spare at first light, motored down the Medway and turned up the Thames past the Great Nore at low water and were then swept up river on the rising tide to arrive at Teddington some eight hours later having taken in the sights of London.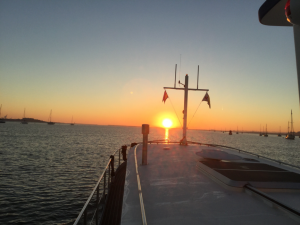 Motoring down the Medway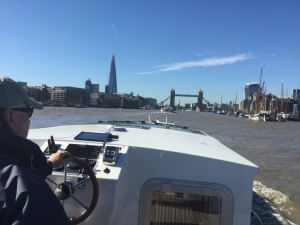 Approaching Tower Bridge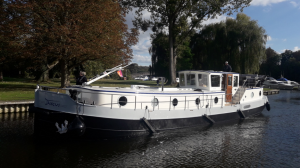 Entering Harleyford Marina
We have been at Harleyford since then cruising the Thames. The plan is to spend this summer doing extended cruises on the non-tidal and tidal Thames. We then want to cross the English Chanel next spring with the view to initially exploring the waterways in the Low Countries.

In summation.
Are we pleased we bought a Piper Boat? You bet we are!
Are we living our dream? To right!
Do we wish we'd done it earlier, definitely!
All I can say is a big thank you to everyone at Piper who helped us along the way. We will be forever grateful.
Angus and Jan aboard JANGUS