Crossing the Channel, an experience not to be missed
We are Sandra and Ross Smith and our barge Cleo is a Piper 60M delivered in March 2019, we have sold up in Australia and live-aboard permanently, this is our story of taking Cleo across the English Channel.
When we first decided to buy a barge and live on the French canals, we were quite sure that our barge was going to cross the Channel on the back of a lorry and go into the water in Auxerre, not for us the scary stuff of crossing the English Channel! But as time wore on, we heard that most Piper boats motored over to France and that crossing was really part of the adventure. As we got to know Cleo better the prospect of a channel crossing became too strong to resist.
Decision made, we contacted David Piper with a May crossing in mind and asked him to be our pilot, David duly came back with a date that matched the right tides with favourable weather for the crossing. While we had been residing in Harleyford marina we had met Bob and Lizzie Tobin on Svanen and they too wanted to cross at a similar time. So, as we had become good friends, it was agreed that we would make the trip together. It would be a two-day adventure with the first day to Queenbouough and the second day crossing to Calais for Cleo while Svanen waited in Queenborough for David to return and take them across two days later.
Day 1 Teddington to Queenbourough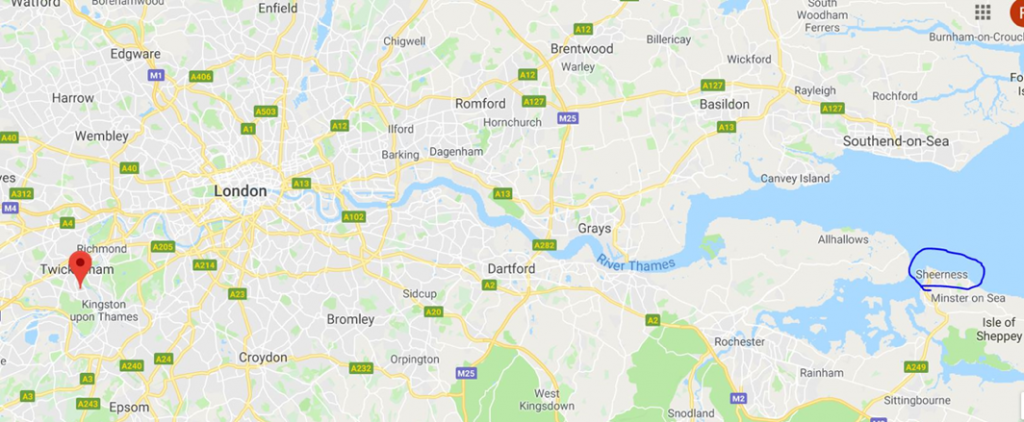 The following pictures are a sample of what we experienced as we cruised down the Thames and across to Calais.
In Teddington Lock at 4:30 AM first light and then sunrise with Svanen ahead.
Some of the 29 bridges over the Thames, we had a list and crossed them off as we passed under, fortunately almost all have their names displayed.
Captain Sandra at the helm as we approach Westminster, it's 7:30 AM, so fortunately not much river traffic in central London.
Big Ben and St Paul's Cathedral on the skyline, London looks so different from the river.
Tower Bridge comes into view, we had been told it gets very choppy and congested around here, but fortunately most of London appeared to still be having breakfast at home.
Passing under the iconic Tower Bridge in our own barge was an amazing experience.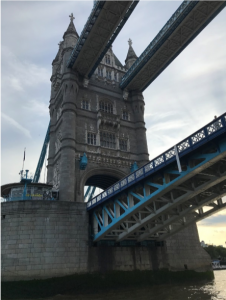 Happy Sandra after navigating smoothly through central London, now the river begins to open out.
Passing the Millennium Dome and Thames Flood Barrier mean you are out of Central London and moving into open water.
Smooth Sailing downriver to Queenborough, these are the conditions that you hope for! We reached Queenbouough at around 2:30, an eight-hour trip, tired but elated.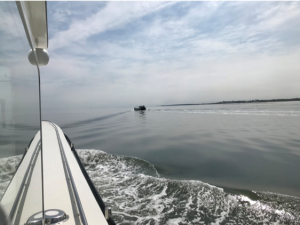 Day 2 Crossing the Queenborough to Calais 
We set out from Queenborough at 5:00AM on Thursday 23rd to catch the tide and the good weather, this time we had our pilot David Piper on board to assist Sandra with the driving and to provide the navigation. Svanen waited in port for David to return from France in two days after our safe arrival. The route map below was captured by a friend who followed our 8.5 hr crossing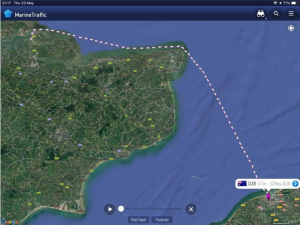 The sun rises as we leave Queenborough and head for the Channel.
It's an odd sensation to see open sea from you loungeroom window while Captain Sandra is at the wheel following David's plotted course.
A final view of the English coast, for the next several hours the task is avoiding lobster pots and big ships.
Mission accomplished, arriving at Calais Harbour after 8.5 hrs and waiting to enter the Marina.
Crossing the channel is exciting, challenging and rewarding and really worth doing. There is a great sense of accomplishment for novice boaters such as ourselves who had never considered the possibility before now. Be brave and give it a try, it is an experience that you will never forget.