Some people have an impeccable sense of timing.
We were around Runnymede, heading downstream on a beautiful sunny May morning on an attractive reach of the Thames, and I had my "Going up the Thames" music playlist on the wheelhouse stereo. "Kraken" was purring along happily at a steady 5 knots, as she does.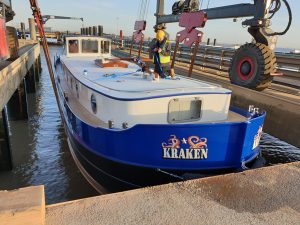 Lou Reed's "Perfect Day" began to play. And I realised that it was.
There was not a single thing that I could think of that would have improved my life at that particular moment. Life just does not get any better.
At that moment, as if on cue, my wife Carole came up from the cabin and said that Andrea had just emailed to ask if we could contribute an "Owner's Article" for the next newsletter.
As I said, some people have an impeccable sense of timing.
Carole and I have been boating in some shape or form since we first met in the early 1970's at our local sailing club. Our kids almost grew up there – it was a safe and healthy environment for them as well as us.
When the last of our three daughters had flown the nest, we decided that we needed some kind of leisure activity that we could both take part in. This, we reasoned, would avoid the dreaded "mid-life crisis", the "empty nest syndrome", whatever you want to call it, that had put an end to the marriages of so many of our friends and acquaintances. "Old Deuteronomy", a 55ft narrowboat, duly arrived on the scene and, for the next 15 years or so, we spent most weekends and holidays travelling the rivers and canals in her.
The next big sea-change in our lives would be retirement. Neither of us wanted to just sit around the house and vegetate. We needed some adventure in our lives, so the idea of living on a boat appealed. The narrowboat was great for a few weeks at a time, but we felt the need for something more spacious for permanent occupation.
A "Dutch-style" barge seemed to fit the bill, preferably sea-going, suitable for the Continental waterways, and with plenty of room for ourselves and our two cats and some accommodation for visitors. We are not lovers of marina living, so the boat would need to be able to operate independently of shore supplies and services as far as possible. The search was on.
We visited Piper events in Henley and Saint-Jean-de-Losne in France. The first thing that struck us was the number of enthusiastic Piper owners who were happy to lend their time and their boats in support of the builders; it sent out a powerful message.
The factory setup was equally impressive. Coming from a manufacturing background, I could see that Piper owned the process from beginning to end, from flat sheets of steel to finished boat. Their investment in CAD systems and CNC process equipment also seemed to be well ahead of that of many of their competitors; the "back-of-a-fag-packet" sketch seemingly still alive and well in some quarters of the UK marine industry.
However, there were some dark clouds on the horizon that made us question whether we were doing the right thing. Perhaps the biggest and darkest was the cloud hanging over the Brexit negotiations, the outcome of which was far from certain.
In 2016 we were told "British people will still be able to go and work in the EU; to live; to travel; to study; to buy homes and to settle down… there will continue to be free trade, and access to the Single Market"
We were reassured, and decided to go ahead and place a deposit. After all, if you could not trust the word of a Minister of Her Majesty's Government, what could you trust?
The second entirely unexpected cloud arrived in the form of a pesky little flu-like organism that was said to have originated in China. Personally, I didn't take much notice of it at first. Sadly, neither did the powers-that-be until it was too late, and by the time they did, we were in the grip of a full-blown pandemic.
I realised that the situation was serious when they closed the pubs. Even that utter swine Adolf Hitler had never succeeded in causing that level of disruption to our British way of life!
The result was, that almost two years after the pandemic first started, we were trying to sell our main house under difficult circumstances. Social distancing was still in force, although the government had introduced a stamp-duty "holiday" to stimulate the property market; in the event, we were able to complete the sale with just a day or two to spare.
In the meantime, Joe and Tom and the rest of the Piper team had been busy converting our "wish list" into reality; Fridays had never before been so exciting as we awaited the (mostly) weekly update photos to arrive in our inbox. Gradually "Kraken" took shape, firstly in the metalworking shop, and then in the fitout area.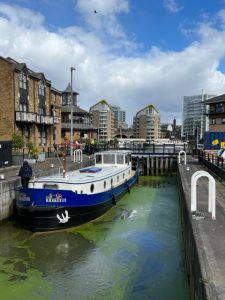 Fast forward to November 2021, and we are about to take delivery of "Kraken". A winter berth has been arranged in Limehouse Basin in London's East End. Unfortunately, the EA have embarked on a rolling program of Thames lock closures, making it impossible to get to Limehouse from the usual launch location at Reading. I spend hours trawling the Internet seeking craning facilities on the Thames with capacity to lift "Kraken". I discover that the PLA (Port of London Authority) have a 70-tonne lift at their Denton facility near Gravesend. But there's no phone number or contact details. I email them twice with details of boat dimensions and weight. No response. I phone their main office and ask for a contact number. No joy, they don't know. Carole calls them several times, and, after 2 weeks of trying, I eventually get through to a bored-sounding person "Your name's Grainger, you say? Oh yeah. Saw your email. But it doesn't fit through the gate. Turn's too tight."
Well thanks a bunch…
Imagine my surprise when I'm contacted a few days later by Andrea, who tells me that the launch at Denton is "on". Not only does the transporter fit through the gate (confirmed by the transport company, who have visited the site), but Piper have launched there before. I'm both relieved and angry. I did rehearse a few choice lines, just in case I bumped into the disinterested individual I'd spoken to on the phone…
So it was that we arrived at Denton first thing in the morning to find" Kraken" already suspended in the slings of the boat lift, Vinnie and Josh busy with final preparations.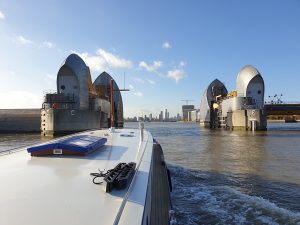 Shaun and Tracy (off Ascension) had kindly offered to pilot us up to Limehouse as they had done the trip a few times before. It was a wonderful passage up the Thames estuary on a bright and sunny day. I think that the wide-open spaces of the Thames Estuary were possibly a novel experience for Josh, but he was kept busy checking things over and making sure that all systems were functioning correctly.
We had great views of the large container ships at Tilbury, the mighty Queen Elizabeth II Bridge, the Thames Barrier, the O2 Arena and Canary Wharf. Eventually, we reached the Lower Pool, and Shaun neatly negotiated the awkward turn into the entrance to Limehouse Lock with about 30 minutes to spare before the tide fell too far to be able to get over the cill.
Shaun chose that moment to volunteer the information that this was the first time he'd managed to get into the entrance at Limehouse without coming close to clobbering anything…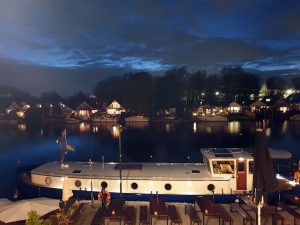 Our winter in Limehouse was spent doing all the usual London touristy things, which was fun, but it was not really what we had bought the boat to do. Apart from the trip up from Gravesend, the furthest "Kraken" had travelled was the pump out at the other side of the marina; however, April 1st (yes, April Fool's Day) soon arrived and Kraken was back in Limehouse Lock ready to lock out onto the tideway.
The journey up the tideway to Teddington Lock and onto the non-tidal Thames was uneventful, thankfully. It was the weekend of the Boat Race, and crews were out practicing their starts in the area around Fulham footy club. We also spotted "Emily-Anne" along the way and had a mutual waving session. Cruising past all the London landmarks for the first time, especially Tower Bridge and the Palace of Westminster was one of those truly memorable experiences that will stay with us forever.
Since then, we've been pottering up and down the Thames in a fairly random fashion, loving every minute of the freedom to go anywhere that we want to, and the variety of town and rural moorings. Our cats, by the way, love the cruising lifestyle, too. As soon as I switch the engine off, they come running to the wheelhouse ready to go ashore – every new mooring spot is a fresh opportunity for feline exploration!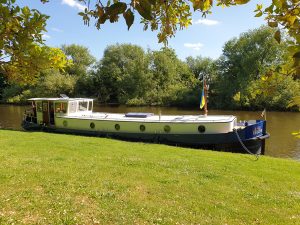 When we are moored in the more "touristy" areas like Marlow and Henley, I'm constantly amazed by the number of passers-by that, completely unsolicited, start asking questions about "Kraken" and complementing us on her beauty. We always smile, as they've only seen the outside and not the beautifully-executed joinery down below. If you want to get noticed on the Thames, get a Piper, it seems.
And if you are looking for your own "Perfect Day", it's essential.
Paul & Carole
Kraken