Piper Boats is pleased to announce the completion and launch of our first river cruiser, the 12C. It is a 12 metre river cruiser with an overall design by Andrew Wolstenholme. This version features a double master cabin and side cabin with twin bunks – with a jack and jill bathroom to provide day-loo and ensuite. There is an open-plan saloon and galley in the wheelhouse, with bifold doors opening onto a spacious stern deck and seating area. There are also designs for a single cabin version with a larger saloon and galley downstairs in the main cabin.

The Piper 12C sitting pretty on the Thames
The conception of our 12C started with Simon sitting on the stern deck of his Dutch barge in 2019, realising that Harleyford Marina was already at capacity for mooring space for the larger boats and there was a gap in the market for something more compact. It was time to bring the lessons we'd learned in fifty years of boat building into the cruiser market – we wanted a compact boat but it still needed to offer the space and well thought out design to make it suitable for long-term adventures! There is a perfect balance to be found to create a liveable space for the owner and a couple of guests to share a weekend together – having all the modern conveniences we're all used to on a modern boat.
Now we have something in our range which slides in alongside our continuing Dutch barge production.
We commissioned Andrew Wolstenholme, famed for his work with Hardy, Broom, and Cockwell, to start work on our new design in Autumn 2019. Together with Simon, he produced the steelwork architect's drawings in early 2020. There was still a lot of work to do to complete the engineering and detailed steelwork design, no easy feat whilst also maintaining Dutch barge creations.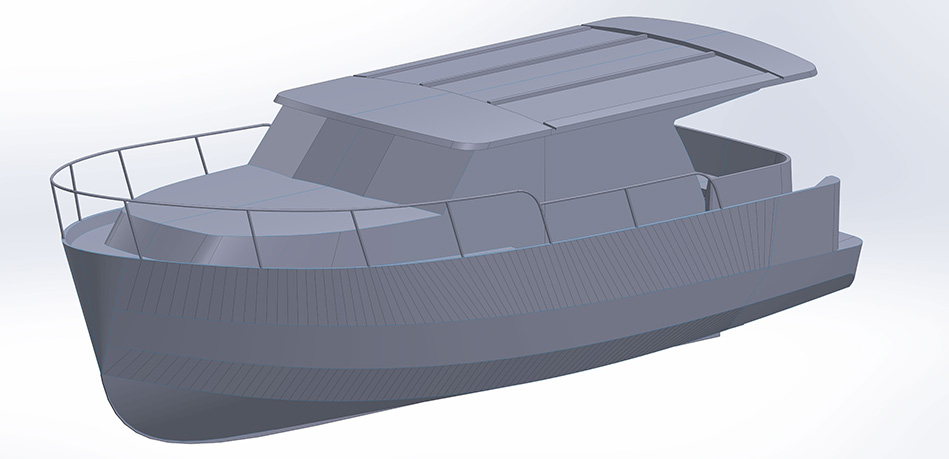 Initial concept design from Andrew Wolstenholme
Our first idea was that this was the perfect boat to move forward with an all-electric drive or diesel-electric hybrid system on. Hence the considerable array of solar panels on the roof – a whopping 1225W of solar! We attended various shows across the UK and Europe to understand the best technology that the market could offer. Electric marine propulsion is still a developing market and we didn't quite get the confidence in the product we needed to take the plunge. We decided to fit a standard diesel engine but we do have future plans to go all-electric or hybrid with a range extender. Watch this space for more on Piper Electric Drive!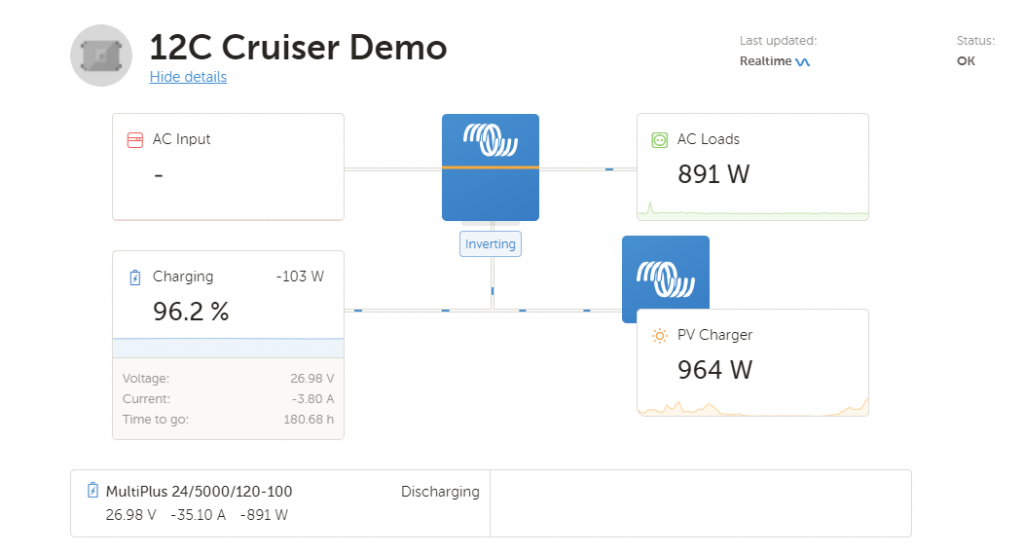 Solar panels putting in the work, running immersion heater with ease!
The first steelwork plates were cut on our plasma machine in March 2020. As we learned, 2020 was a challenging time to start manufacturing a boat with Covid and Brexit forming a perfect storm! That said, we finished the steelwork shell that April.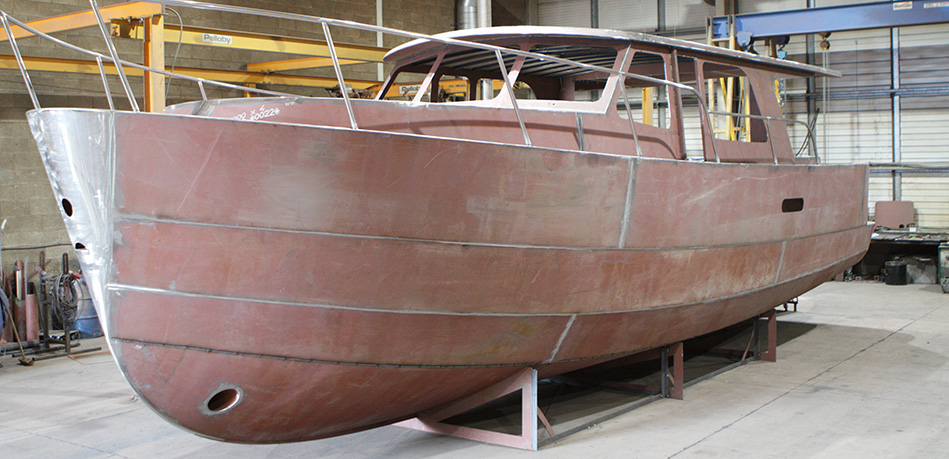 The pre-covid 12C, in our workshop – Biddulph, Staffordshire.
Whilst we were continuing the engineering and interior design, we, unfortunately, had to shut our workshop due to covid restrictions. Work stopped on the cruiser! Thankfully no one from Piper Boats suffered from covid but it was still June before we started to get back to work installing the fuel and water tanks, the plumbing, and first fix wiring.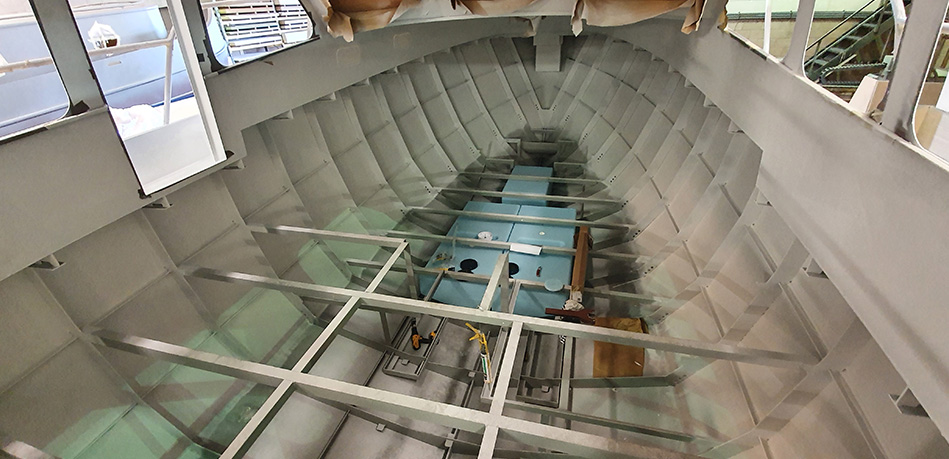 Initial stages of production, fitting of the tanks and plumbing
We made good progress throughout the summer and soon had the front cabin fitted out. We were pleased with the early interest in the boat and we started publicising our new creation which was due to be launched at our Henley 2020 show in September.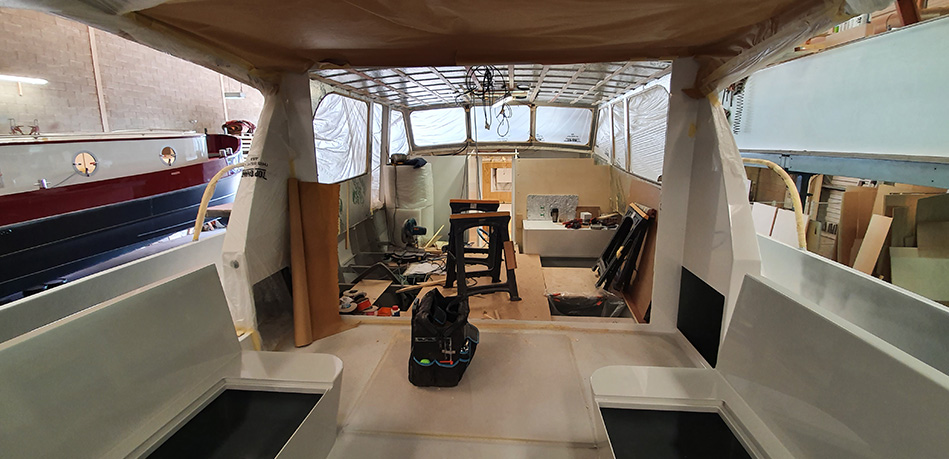 Interior fit-out work continues aboard the 12C
That was just before the second wave of covid started to creep in and the wretched decision was made to cancel the show. Another roadblock to overcome, but it did not stop there! Brexit was fast approaching. And with that came an increase in Dutch barge orders to be delivered on the continent before the dreaded 31st December 2020 transition date. The workshop converted to only building anything which needed to be in France that year. At least it gave us time to complete our designs for the saloon and galley in the wheelhouse!
Cut to March 2021 and the nation was just about recovering. Mr. Johnson was starting to allow us to get back to normal and we could finally finish what we had started almost a year ago! It had been a bumpy ride but it was great to see everything starting to come together and final bits of construction being completed.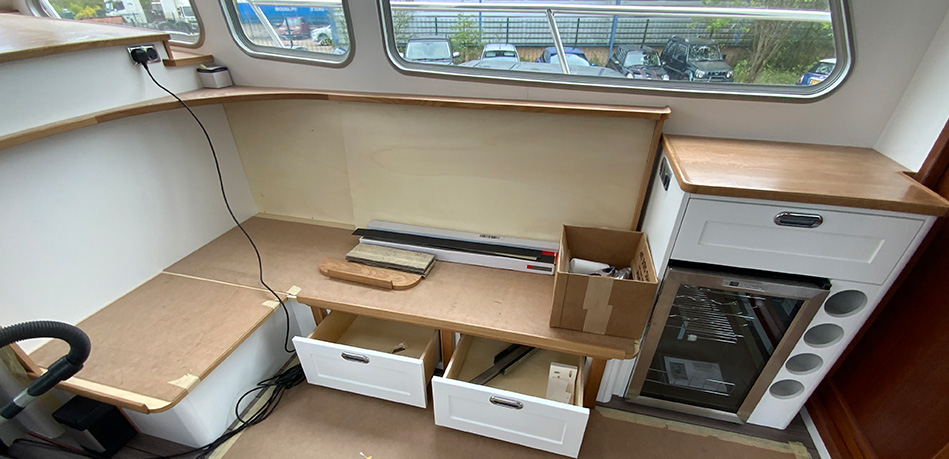 Completing the final fit-out on the Cruiser in April

We finally finished the boat in May 2021, almost 16 months after we first started our detailed engineering designs. It had been a labour of love throughout a challenging time for the whole country. It has also been a learning curve for the staff at Piper Boats, this boat being a different animal than our normal Dutch barge production. Now was the time for celebration though, as we were ready to launch the boat on the Thames.

Simon and our engineering team were on hand in June 2021 when the boat was launched and began the process of final commissioning the boat. A week on the Thames followed – plenty of time to catch up with some Piper Boats Owners and to show off the newest member of the Piper Boats range. It was fantastic to finally be able to demo the finished product and we are very proud of what we have built. We are pleased to be able to offer a British-made cruiser for use on the Thames and we believe it is a fantastic addition to the range of boats you will see on the river.

Click on the following for full size gallery




We can't wait to start building the next one and it will certainly be a bit easier than during 2020! We will start production of the 1 bedroom version later this year. More information on the 12C, including specifications and photos, will soon be available on our website.

If you are interested in owning your own Piper 12C on the Thames, we are working with Boat Showrooms as our agent. You can find information on their website at:
https://www.boatshowrooms.com/new-boats/piper-12c-cruiser/
For European sales, please contact sales@piperboats.com.